Company Profile
Representative Greeting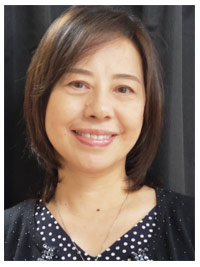 I was born and grew up in Taipei, Taiwan and have been living in Japan for 40 years. Due to family matter, I came to work in Japan when I was 20 years old. During that time, the language barrier made life very difficult, however, with the help from surrounding Japanese friends, I am able to enjoy my life today.
My husband works for Oracle Corporation. In 2000 he was assigned to work in Silicon Valley. As an expatriate, we live in the U.S. together until 6 years ago when we decided to return to Japan. While living in the U.S. we learn and gather a lot of experience through mutual learning and cultural exchange with various nationalities friends. In addition, we also made a lot of friends from different countries and culture background. It is my pleasure to meet these people.
My mother is Taiwanese and my father was born in Liaoning Province, China. My husband is Japanese. Our daughter attends a high school in Boston while she was 14 and graduated from UCLA. Her 8 years of studying in the U.S. is also one of the most precious experiences in my life!
Originally, we planned to live and work in the U.S. until our retirement. However, I can't forget the time when I first came to Japan and lots of Japanese friends helped me through the hard time. I always want to express my gratitude to the country. With my language ability, I hope that I could contribute to the society by sharing my multi-cultural experiences, therefore, we returned to Japan.
I will never forget those helps from my Japanese friends when I first arrived in Japan. Now, with the gratitude and honesty in mind, I'd like to contribute to everyone who needs help. In addition, I also hope that my work could help deepening the friendship between Japan and Taiwan.
Noted:
Like Taiwan, Thailand, the pro-Japanese country also has our foothold. Thailand is one of the ASEAN countries. In recent years, many Japanese companies and individual investors continue to enter Bangkok, Ayutthaya, and Chiang Mai.
Therefore, the Company hopes to enter Thailand together with everyone else, investment, doing business, engage in events or activities and other aspects of providing services to you. We have our contact persons in both Bangkok and Chiang Mai (Thai and Japanese people living in the local), the Company is pleased to hope that the two countries exchange and improve in culture, habits, language, ways of thinking, ways of doing things and other aspects of communication!
Company Information
| | |
| --- | --- |
| Company Name | Fuji Global Sky Corporation |
| Head Office | 9-26 Nishi-Arai-cho, Tokorozawa-shi, Saitama 359-0035, JAPAN |
| TEL/FAX | Tel/FAX : 04-2995-5821 |
| CEO/President | Yuka Fujimura |
| Established | November 25,2010 |
| Capital | ¥ 6.0M |
| Main Financing Bank | MUFJ Bank Ltd. Tokorozawa Branch |
アクセスマップ